This is an old ar­ti­cle from 2011. I was a kid. I learned a lot since then, so please do think twice when tak­ing ad­vice from me as a kid.
I just found a project I start­ed work­ing on be­fore I start­ed this Blog. It's a clone (or at least pret­ty sim­i­lar ;) ) of the wide­ly known Bomber­man. I will, of course, re­name my project as soon as I found a good name for it.
I had the maps be­ing load­ed and drawn al­ready, so I added the Play­er a World, Spawns and world col­li­sions.
The Game is cur­rent­ly work­ing with Al­le­gro 4.3 (just as Zom­biehunt) and is writ­ten in C++. I had in mind to add a on­line game mode. That is a great op­por­tu­ni­ty to learn a lit­tle Net­work Game Pro­gram­ming. Back then I had writ­ten a de­sign doku­ment for this game, so I will re­vise that and make this a de­cent project :)
Here is a screen­shot of how this project is look­ing like at the mo­ment: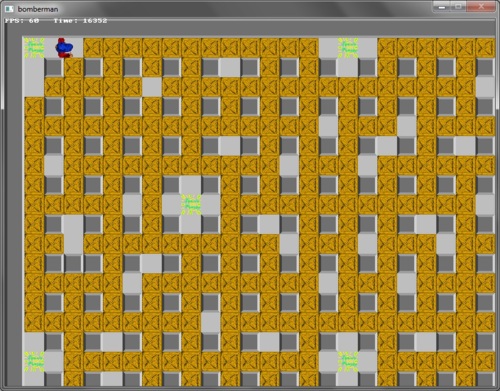 This post was im­port­ed from tum­blr
Tumblr
Archived blog posts from squareys.tum­blr.com.